Retirement Community Resident
"I moved to Snyder Village in October of 2014, and then retired in 2015.  I had been widowed in 2011.  I quickly got involved (at Snyder Village) and joined the Resident Council in 2015.  My friends and I love to shop in the small towns around Metamora looking for treasures.  We also run the monthly Bingo games and take care of the annual garage sale on campus…Our slogan, 'Snyder Village is My Place to Call Home', says it all.  Security, activities, help when you need it, a beautiful campus to live in, and best of all, the wonderful friends I have here."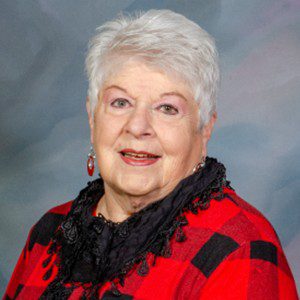 Retirement Community Resident
"My husband and I moved to Snyder Village on January 6, 2015.  As the moving van pulled out of our drive, the snowflakes were falling.  With 8 inches of snow, the maintenance crew (at Snyder Village) was out clearing the sidewalks and driveways.  We knew this was the right move.
Staff is always there to help and go the extra mile to help you.  I tell everyone this was the best move we ever made.  We just should have done it sooner.  My children don't worry about me because Snyder Village takes care of my needs.  Snyder Village also has a daily schedule of activities.  You can be as busy as you would like to be."
"We moved in at the end of June 2023, and we have had a great experience. We have wanted to be proactive when it comes to planning for life after retirement.  Snyder Village has a very good reputation in our area.  We have seen firsthand how well they have cared for friends and family.  We saw in Snyder Village a place where we could live independently but also have the ability to be assisted and cared for when that time comes.  In doing this, we are hoping to make it easier for our family in the future.
All of the staff have been friendly and responsive whenever we need something.  Everyone seems to try and do the best job they can. We feel safe here and we know that we can call if we need help with something.  Plus, we have met many nice people in this community. 
We have and will continue to recommend Snyder Village to others.  There's comfort in knowing that we don't have to be so concerned with what our plan will be as we age because living here provides a way to be proactive.  We would also recommend Snyder Village because it's a faith-based Christian community."
Retirement Community Resident
"I've lived in a cottage here for 7 years and think we made the perfect move when we came here. We have everything we need here and it's maintenance free. When our furnace went out last winter, the on-call man came out from Washington in a blizzard and got us heaters and then we got a new furnace. People are friendly and there's lots of activities if you want them and good neighbors. Come see for yourself!"
Retirement Community Residents
"We moved to Snyder Village last year and we have never looked back.  Our move was seamless into our cottage, and we were welcomed into a community of friendly neighbors and activities where we have met more friends.  We find our life stress free from home responsibilities and with a quiet neighborhood in which we walk."
"For the last twenty years Snyder Village my family has experienced great care thru the Health Center where Grandma lived to be 100 years old, the Memory Care wing where dad was well-cared for in his final months, the cottages where mom was well-loved and cared for over the past 15 years – and now in Assisted Living where she has moved as her ability to stay alone changed.
We are so thankful and try to tell anyone who asks how wonderful a place it is and how we have found the staff  to always be kind and caring in each branch."
Retirement Community Residents
"We moved to Snyder Village in June of 2021.  We came here for the maintenance-free living, and we also liked the location.  We really like Metamora.  We love our cottage here.  The size, structure, and layout are perfect for us.  We enjoy sitting outside on our patio and the quietness of the area.
We wanted to move here at a relatively young age so that we can enjoy life and not worry about the other stages of needing help that may come in the future.  Snyder Village makes the process a lot easier.  There's a place for you here if more needs come up – either at Assisted Living or in skilled nursing.  You also know that your spouse will be taken care of in the future too.  
There's a comfort here knowing that Snyder Village will keep things maintained and we don't have to worry about reselling the property or anything.  We've been able to trust the process here more because of the Christian atmosphere and leadership…  We'd recommend Snyder Village to others.  Come take a tour!"
"When we needed someone to care for our father after his hospitalization, Snyder Village was quick to respond. From the first visit, we were impressed by the quality and professionalism of their caregivers. Such a huge worry off of our minds!  Then, when mom was diagnosed with lung cancer, we knew exactly whom to turn for more help. We knew it was going to be hard to get everything adjusted to increase hours and provide care for both of our parents…but Snyder Village did just that.  I live 3+ hours from my parents and cannot be there every week. And I'm a nurse, so pleasing me isn't always easy when it comes to caring for my parents.  I have to tell you, though, that I LOVE the caregivers and have great confidence in their ability to care for them like I would.  Since having Snyder Village come into our parents' home, I've referred the agency to other friends in the area who shared with me how happy they were that I did!  THANK YOU Snyder Village for making it possible for my parents to stay at home."
"Home Care helps me with little things like peeling oranges, slicing apples, and getting my mail – things around the house that have become hard since breaking my arm.  And they take care of my dusting and clean my bathroom.  It's so nice to have people come and do part of your routine that you don't even have to think about.
As we get older, we need more help, and Home Care helps my husband with activities of daily living.  They'll coach him through shaving and brushing his teeth and help him with showering and getting clothes on.  It's really nice to have caregivers that he's familiar with and who know his routine.  They even schedule enough time so they can watch baseball with him because he loves that… We love the caregivers who come here.  They (Snyder Village) send us really good people.  That's the main thing."
"After visiting several retirement communities, we decided on Snyder Village because it felt fresh and alive.  Seeing so many seniors and staff be friendly and active won our hearts over quickly.  We enjoy the reduced stress, the safety, and the security here.  The ability to participate in events and share great life lessons with other seniors is special.  Laughing and smiling are commonplace here.  
I would recommend Snyder Village to others.  As someone in my mid-70s, I understand that my limits and abilities continue to change.  The activities here keep me alert and satisfied and the staff in all departments are ready to assist your needs.  Snyder Village is truly a special place."
"I had a stroke and was in the hospital and then went to a nursing home for three months.
I needed more help and couldn't live at home anymore because I've lost my eyesight.
We looked at three assisted living places.
We really loved the activities and everything there is to do
(at Snyder Village)
.
I've made new friends and it's just really nice here. I like the crafts, fellowship, and the games.
I would tell others they would never regret coming here.
The staff and nurses are all so wonderful.
It's just a great place to live."
"This is the best kept secret in the Metamora/Peoria area. My brother, Ken, used Snyder Village's Home care, which is excellent, for a number of months and moved in to a cottage at Snyder Village in January 2020. Snyder made the move so easy for us. They work with a local mover who helped pack as we requested and Snyder Village helped with the moving cost. The cottage was all refurbished with new paint and carpet prior to moving in and their maintenance department was super efficient.
Ken says the meals are home cooking style. He can eat at the Snyder Bistro and order from the menu or have meals delivered to his cottage which came in handy over the winter. Ken feels Snyder has made it easier to give up his home of 52 years, because he feels so safe at Snyder Village.
There are activities and entertainment available throughout the week if he chooses to participate. But most days he is just content with his private life in his cottage. Ken says it is the best move he could have made. His brother and I, who live up to 3 hours away, are so relieved. We know he is happy in a safe place and he has caring people to give him some help if needed." 
"I first came to Snyder Village because it already felt like home.  I'm from Metamora and knew a lot of people in the area.  I like that Snyder Village provides help.  I'm not there yet, but I know there is Assisted Living and nursing care if I need it."
"On behalf of our family, we would like to thank you for the excellent care my mother received while she was living at your facility.  Her quality of life went up exponentially once she moved to her cottage…I believe she was happier than I'd ever seen her.  My siblings would agree that we loved Snyder Village for my mother, and it was the exact place she needed to be.  Your quiet, calm, and confident leadership in this facility is a perfect fit for what that responsibility entails.  We would like to let you know how much we appreciated everything.  Your staff is amazing…everyone was such a blessing to her and to us.  Thank you for taking such good care of her."
"I love it here! I love the freedom, especially the maintenance. I don't have to mow the yard. Before I came to Snyder Village, I was tired of doing yard work and calling my son every time I needed something."
"We've always been do-a-lot kind of people with a pretty full calendar. We didn't move out here to sit and veg. We moved here so we can do everything we did before but not have so much work to do."
"When Janet passed away, everyone here was very supportive. Living here made it easier to cope and helped me get through the loneliness."
"When Mom was 95, we knew she needed to be somewhere where she could get some help. She had three choices:  live with one of her children, move to Snyder Village, or have someone live with her 24/7. She chose Snyder Village.
For two years, she lived in an apartment there and got great care. It was absolutely wonderful! We couldn't ask for better. After a stroke, she needed skilled care, and the staff at the Health Center was just awesome. The nurses are all really helpful and attentive. They always let me know of changes occurring. Everyone at Snyder Village is awesome – from the maintenance staff all the way to those who take care of the laundry… everyone is just so caring and helpful."
"I'd call it a home-like atmosphere. (The Health Center) is not like a hospital. It's very clean and doesn't smell. We often take part in the activities. We recently went on a fishing trip and will go on bus tours to view the leaves in the fall and the snow in the winter."
Read more from Dave here.
"It's as near to heaven as I'll get. I get excellent care here. They take us anywhere we need to go, so that's a plus. They take us any place in town, and they will take me to my doctor's appointments. There's always somebody to help you. That's the wonderful part about Snyder Village."
"After my husband passed away, our house and land was just too much to take care of and cost too much to maintain. When I came to Snyder Village, I thought now this was something I could handle.  The maintenance is taken care of for me.  It's a very kind community and I feel safe here.  I look around and I've got it pretty nice.  The Lord's been good to me.  I've got a lot to be thankful for."
"We have the perfect lot. From the sunroom, we see the sunrise every morning. That is very inspiring. When we drove here, it felt like a neighborhood.
Everybody takes care of everybody. Living here, we couldn't find a friendlier town than Metamora, IL."
"Coming to Snyder Village was the best decision my wife, Arbutus, and I ever made. First of all, it's Christian. That's #1. Our children like us here.
They don't have to worry about us. Snyder Village takes care of everything… the mowing, they take care of the snow and do everything. I'm as free as I can be. And financially, I think it's the most reasonable and is one of the best taken care of retirement communities."
Get the Latest from Snyder Village
Sign up for emails from Snyder Village here.